PHOENIX BLINDS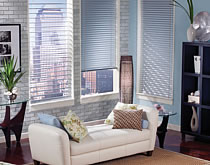 Available either in either horizontal or vertical applications, blinds are some of the most commonly used coverings for windows. We offer a wide selection of materials, styles, textures and colors for our horizontal and vertical blinds. With innovative design, we can also also make available features such as the "bounce back" construction of our aluminum blinds and the contoured headrails on our verticals.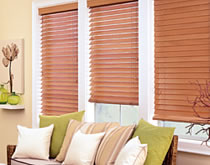 Horizontal blinds are ideal for windows where bright sun and great views come together. You want the view but you can't have the sun pounding in. A simple tilt and you still have a view, but the angle of the louvers provides coverage to protect your furnishings and your home. If need be, the blinds can be closed completely to darken the room and maximize your privacy. From inexpensive metals to composite materials all the way up to premium hardwoods, Silverline can help you determine which solution best meets your needs and budget.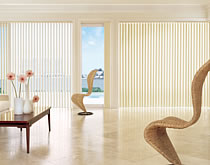 Have a huge window or a big door with a view on the other side? Vertical blinds are well suited for bigger windows. Designed to slide from side to side, our offering includes blinds made from beautiful fabrics, exquisitely embossed vinyl and striking aluminum finishes. Select the link below and we'll show you the details. Silverline's commitment to quality and affordability will assure you get the very best window treatment value.
CHOICES FOR BLINDS
Available in almost any conceivable material, design and color, Silverline Specialties' blinds are versatile, functional and help complete any room design. There are numerous products available to suit most tastes and budgets.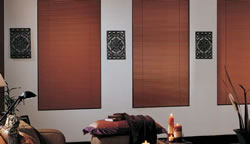 Function is important to consider when looking for blinds. For the most part, blinds are considered "fixed", meaning that they are light filtering and should only really be raised for cleaning the window beneath. Among designers, blinds tend to be considered the best "look for value" and the sheet diversity of products lends some weight to that thought.
Blinds are used for light control and privacy. They are not used to block all light, their slats or "louvres" prevent that. Blinds can be opened, closed and the louvres tilted to control light and privacy. Louvre sizes vary from very small ½-inch to 4-inch or larger. The larger the louvre, the fewer are needed to fill a space and the quicker the human eye can "adjust" when looking out (or in) through them.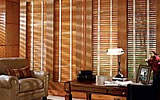 "Granny shutters", made in the 1820's had louvres of just over an inch, a design marvel at the time, heralded by the industrial revolution, though not as common today. The louvres in these shutters were adjusted together by use of a rod that was connected to all of them.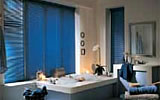 Horizontal Wood blinds are the most attractive and versatile of the products offered by Silverline. Crafted from the finest hardwoods, horizontal wood blinds are available in several styles from Chalet Woods® for a beautiful and economical finish to the exotic range of distressed woods available in our Country Woods® Expose™ blinds. With over 30 years of experience, you can rest assured that Silverline Specialties will help you pick the perfect wood blind solution to fit your décor and price point.

"Horizontal blinds often offer the most economical means of covering a window. The other end of the spectrum are the stained hardwoods that offer a richness and beauty that only stained woods can provide."
Rick
Horizontal Alternative Wood
is ideal for windows exposed to moisture, humidity and sun, wood alternatives provide an affordable yet attractive option for clients who want consistency, reliability and affordability.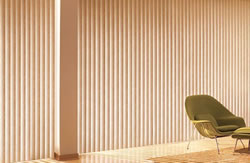 Horizontal Aluminum
is very contemporary, durable and available in numerous styles, sizes and colors, aluminum blinds can complete almost any room and complement nearly every style and taste.
Vertical Blinds are best suited for tall windows and sliding doors. Vertical blinds slide from side-to-side. Like their horizontal counterparts, vertical blinds are available in a multitude of materials and finishes. At Silverline Specialties we can help you review the many options available and find an attractive vertical blind that will complement or enhance any décor.
Contact us
for your free in-home consultation and to see our portfolio.
Photographs courtesy of B&W Window Fashions / Hunter Douglas. © Copyright B&W Window Fashions / Hunter Douglas. All rights reserved.