SUNSCREENS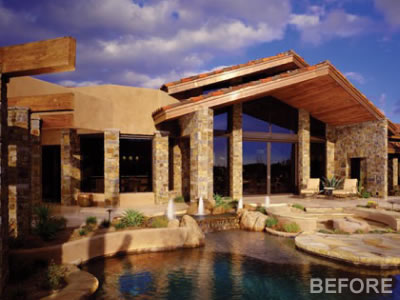 Great views with few privacy issues but burning sun that makes it an impossible window to enjoy?
Sunscreens may be just the answer. With different density weaves, fashionable colors and the ability to use them inside or out, sunscreens have become one of the most favored treatments of homeowners. Motorized or manually operated, the new range of products very successfully updates the still popular fixed screens that have long been one of the most effective systems for keeping the sun and heat out.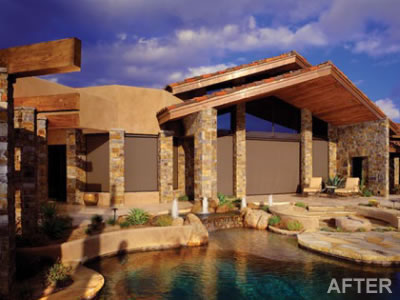 The density of the weave is what in large part determines the shading efficiency of a specific screen. Sometimes expressed as the amount of light it blocks (example: 90%) and sometimes rated by the amount of light it allows through (example: 5%) sunscreen offers not only shading, but some level of privacy as well. In fact, on most versions, you cannot see into the home at all during the day light. At night however, this privacy can be seriously reduced. It is important to know just how much privacy the screen you choose offers around the clock.
ARIZONA SUNSCREEN OPTIONS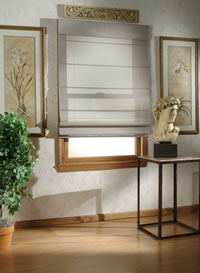 As mentioned on the left, there are a surprisingly large number of products that fall into the "sunscreen" category. From the traditional "fixed" screens seen on many home to motorized and even computered-controlled solutions that adapt to the changing weather, there is something for every home.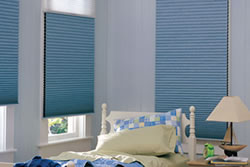 Sunscreens can be interior or exterior. They come in a variety of materials, the application and aesthetic (as well as cost) dictacting what material is used. They can be hole-punched (metal screens) or woven. The density of the weave or the punched holes dictating the amount of light blocked or let through. They can be fixed or adjusted, on rollers or tracks, manually operated or motor driven. Interior sunscreens include some of the pleated or honeycombed shades you would expect to see in the "shades" section of this site.

"With so many great views in Arizona, it's a shame to cover them up all time. Sunscreens give you the benefits of UV and heat protection while allowing continued appreciation of the vista."
Rick
Whatever your requirements may be, Silverline Specialties will help you find the best product to suit your needs and budget. You'll be amazed at the diversity of options available to you.
Sunscreens are an important part of any home in the region, and can make an enormous difference to air-conditioning and heating bills.
Contact us for a consultation and beautify your home and save energy at the same time!
Photographs courtesy of B&W Window Fashions / Hunter Douglas. © Copyright B&W Window Fashions / Hunter Douglas. All rights reserved.