CUSTOM DRAPERIES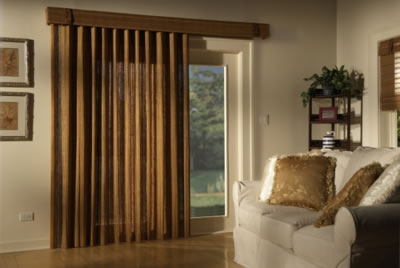 Draperies are among the "soft finishes", also called a "curtain" in some parts of the world. Available in varying materials, drapes have been used for centuries to decorate, insulate, darken and provide privacy to homes the world over.
Silverline Specialties offers drapery solutions limited only by your imagination. Draperies are among the most flexible window treatments and can be the perfect finishing touch that makes a room "complete".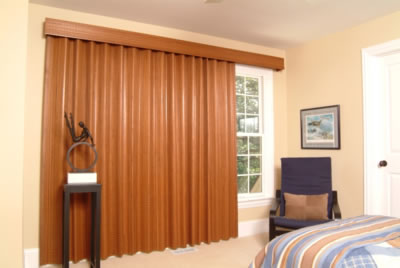 Selecting the right drapes is important. There are many things to consider and we are here to help you understand your options and help you pick the right combination of materials and designs, giving your home a distinct and very personal look that you'll appreciate for years to come.
DRAPERY OPTIONS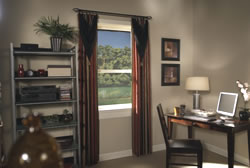 Draperies by Silverline Specialties can completely alter the style and warmth of a room. Draperies can be used in conjunction with many window treatments such as shades or blinds, or they can be used exclusively as window treatments themselves.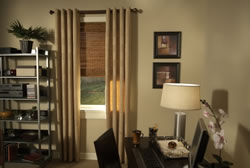 The style and material of the drapery will vary depending on many factors from atmosphere the client wishes to convey to the practical application of the drapes. If used as the only window treatment, in some rooms, privacy may be a concern. In colder climates, drapes can act as an excellent insulator.
At Silverline we have worked with unusual drapery materials such as fine links of metal, otherwise known as "chainmail" and, old-western, style wagon canvas. When a certain look is desired, our imagination knows no limits!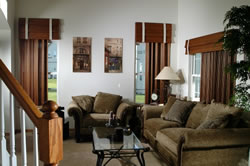 Drapes, for the most part, soften a room's appearance. When used with other window treatments, they can turn the ordinary into extraordary.
Maintenance is a little different, depending on the materials used. Sometimes a periodic vaccuum is sufficient, other times a dry clean. When considering draperies, think about the atmosphere of a room as well as the functionality of the drapes.

"We are finding that more people are using draperis or side panels to soften their "hard" window coverings."
Marsha
Are they going to be simple non-closing side panels, held with rings on a rod, lined (for warmth and privacy), or a hybrid "drapes meet blinds" solutions such as roman shades? There is much to consider, but drapes allow a lot of flexibility and can greatly enhance the warmth and comfort of a home and, as with any of Silverline's products, there are usually solutions for every taste and budget.
Contact us for your free in-home consultation and to see our portfolio.
Photographs courtesy of B&W Window Fashions. © Copyright B&W Window Fashions. All rights reserved.